Our team is comprised of the PI, Postdoctoral Researchers and Translators who specialize in the literatures of the project, and Project Coordinator Ann Evans, who is the first point of contact for general queries.
Principal Investigator
Professor and Professorial Research Fellow, Islamic World and Comparative Literature
Rebecca Ruth Gould is the author of Writers and Rebels: The Literature of Insurgency in the Caucasus (2016), which won the University of Southern California Book Prize in Literary and Cultural Studies and the best book of the year award from the Association for Women in Slavic Studies, and The Persian Prison Poem:  Sovereignty and the Political Imagination (2021). Her articles, published in venues such as New Literary History, Representations, Modernism/Modernity, History & Theory, and Comparative Literature, have received awards ranging from the International Society for Intellectual History's Charles Schmitt Prize to the Women's Caucus for the Modern Languages Association's Florence Howe Award for Feminist Scholarship to the British Association of American Studies' Arthur Miller Centre Essay Prize. Her translations include The Prose of the Mountains: Tales of the Caucasus (2015) and After and the Days Disappear: Ghazals and Other Poems Hasan Sijzi of Delhi (2016), and, with Kayvan Tahmasebian, High Tide of the Eyes: Poems by Bijan Elahi (2019). She is co-editor of The Routledge Handbook of Translation and Activism (2020). She has written for the general public in London Review of Books, The Global & Mail, and World Policy Journal and her writing has been translated into twelve languages, including Arabic, Persian, Chinese, Russian, German, French, Spanish, Polish, and Portuguese.
Postdoctoral Researchers and Translators
Hadel Jarada, Arabic (profile to come)
Turkic Research Fellow (Chaghatay and Ottoman)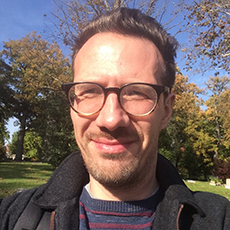 Kristof D'hulster engages with the social and cultural history of the pre-modern Islamic world, hereby focusing on processes of cultural exchange and interaction between the Turkic, Persian and Arab spheres. An important focal point being the meaning of "Turkic" beyond the Turkic world, he is currently exploring the interplay of Turkic language, literature and ethnicity within the Mamluk Sultanate, arguing for a reconceptualization of the Mamluk-Turkic identity as a discursively constructed socionym. Following a master dissertation on 19th-century Belgian-Persian relations, in 2010 he defended his PhD on Turkic socio- and contact-linguistics, "Writing Norms, Code Interferences and Textual Dynamics. A Study of 18th- and 19th-Century Chaghatay Texts" (KU Leuven), in which he developed the DCS model (Diglossic Code-Switching) for processing Post-Classical Chaghatay texts. From 2010 to 2014, he was a postdoctoral research fellow of an ERC-funded project, "Mamlukisation of the Mamluk Sultanate. Political Traditions and State Formation in 15th-Century Egypt and Syria" (Ghent University). Up to 2019, he was a research fellow of the Research Foundation – Flanders (FWO), conducting an independent research project, "Turkic and Circassian between Ethnonym and Socionym. The Linguistic and Ethnic Dimensions to Mamluk Identity as a Discursive Construct". His first monograph, Browsing through the Sultan's Bookshelves. Towards a Reconstruction of the Library of the Mamluk Sultan Qāniṣawh al-Ghawrī (r. 906-922/1501-1516), is due by 2020.
Persian Research Fellow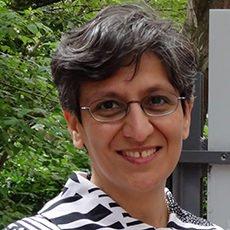 Nasrin's primary areas of research specialization are classical Persian literature, the history and culture of late antique and medieval Iran, the Perso-Islamic literature of wisdom and advice, and medieval Persian popular literature. Nasrin completed her PhD at the University of Toronto with full funding from the Social Sciences and Humanities Research Council of Canada. She has held Postdoctoral Fellowships at the University of British Columbia, where she published her first monograph and developed a new curriculum in Iranian Studies. Her book The Medieval Reception of the Shāhnāma as a Mirror for Princes, published by Brill in 2016, won the World Award for Book of the Year in Iran. She spent a year at the Bodleian Library, University of Oxford, as a Bahari Visiting Scholar in the Persian Arts of the Book to conduct research on medieval Persian manuscripts. Her annotated edition of the Mūnis-nāma, a twelfth/thirteenth-century work of wisdom and advice for the elites, especially female elites, of the Atbaegs of Azerbaijan is forthcoming in Bunyād-i Mauqūfāt-i duktur Maḥmūd-i Afshār (Dr. Mahmud Afshar's Endowments). She is also contributing to the research project "At the crossroads of Punjabi and Persian: The Traveling Tale of the Lovers, Hīr and Raṅjhā," led by Anne Murphy and funded by Insight Grant of the Social Sciences and Humanities Research Council of Canada.
Hadel Jarada
Arabic Research Fellow
Hadel Jarada's research interests are grounded in three main fields: Islamic intellectual history, medieval philosophy and theology, and classical Arabic literature. She holds a BA in Near Eastern Studies from the University of California, Berkeley (Highest Honors), and will soon complete her PhD in Near Eastern Languages and Civilizations at Harvard University. Her dissertation establishes an intellectual history of the debate on free will and divine predestination in Islamic theology, with a focus on the Māturīdī tradition that reigned in Central Asia and other parts of the Islamic world for well over ten centuries. Prior to joining the Global Literary Theory team as a translator of Arabic balāgha texts, Hadel was a predoctoral fellow in the ERC project Epistemic Transitions in Islamic Philosophy, Theology, and Science at the University of Jyväskylä, Finland.
Bakir S. Mohammad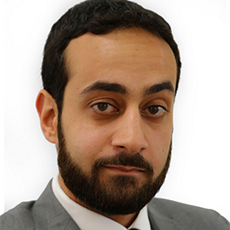 Bakir S. Mohammad is completing his PhD at the University of Glasgow in Theology and Religious Studies. His thesis focuses on a modern-day Islamic reformer and his role in the revival of kalām in the Levant. His MA thesis explored the concept of kasb (acquisition) in classical Ashʿarite thought and contrasted it with Ibn Taymiya's views on anthropomorphism. He is also a Faculty Member in the Department of History, Religion and Society at King's Academy, Jordan. He is interested in the fields of kalām, polemics, balāgha and logic. He has a passion for translating classical Islamic texts from Arabic to English and vice versa.
alumni:
Dr Michelle Quay, Persian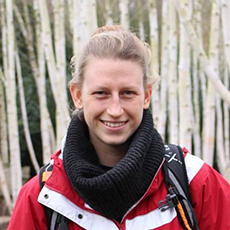 Michelle Quay has taught Persian at Columbia University and the University of Cambridge. As a Gates Cambridge Scholar, she undertook research for her dissertation on depictions of gender in premodern Persian literature, particularly in the writings of Farid al-Din 'Attar and other early Sufi mystics. She was awarded her doctorate for this work from Pembroke College, University of Cambridge, in 2018. Currently, she is at work on a monograph based on her doctoral thesis. Her areas of professional engagement include the literatures of early Islamic mysticism, gender studies, feminist literary criticism, Persian prosody, and literary translation. Her literary translation work has been published in Asymptote Journal, World Literature Today, and elsewhere. Growing up in Southern California's 'Tehrangeles,' her interest in Persian was sparked at a young age from her contacts with the largest Iranian diaspora community in the United States.