Focusing on texts, canons, and traditions that have been obscured for millennia, GlobalLIT is examining how pre-modern literature from the Islamic world, in particular the Caucasus, was written and considered, how it fitted into a wider sphere of broader cosmopolitan and vernacular literary flows, and how it can help to inaugurate a paradigm shift within contemporary literary theory.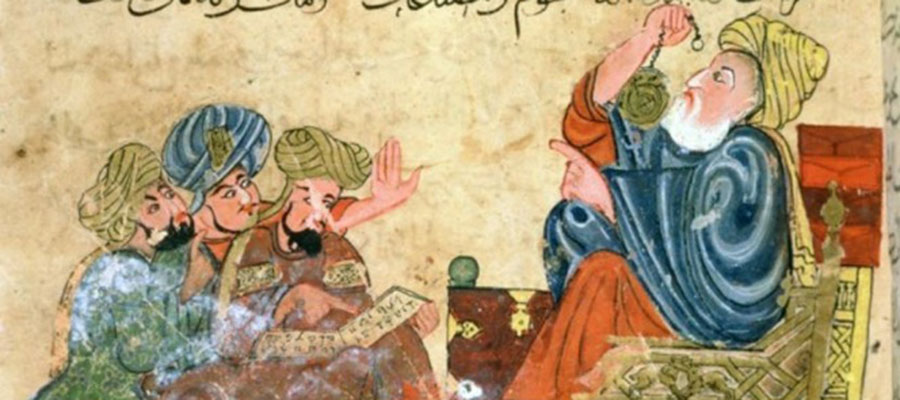 Among our most important contributions is the excavation of the forgotten tradition of Islamic rhetoric ('ilm al-balagha) for the contemporary study of literary form.
Considering material that has never, or inadequately, been studied before, we develop new ways of:
Testing, and contesting, the hypothetical absence of literary theory before modernity
Move beyond literary modernism, conceptually as well as empirically
Using pre-modern literary reflexivity to enrich contemporary literary theory
Revisiting pre-modern texts
We move beyond modernist understandings of literary critique as we engaging the with literary-theoretical traditions of the Islamic world, with a particular focus on Persian, Turkic, and Arabic. We also look closely at intersections between these major languages and local vernaculars, including Georgian, Armenian, Kurdish, and Urdu.
Although the risks and challenges of mapping, reconstructing, and studying such a varied set of literary theoretical traditions are formidable, the loss to literary studies when pre-modern literatures are labelled irrelevant, is arguably much greater.
Lack of knowledge isolates these pre-modern texts from global contexts, separates them from broader globalising trends within the humanities and social sciences, and perpetuates misunderstanding. More importantly, it limits our concept of literary criticism to just what we know from twentieth century critical trends.  Notwithstanding its internal diversity and richness, literary modernism cannot reveal how literature has been conceptualised across time and space. Among the dimensions of literature often obscured within analytical frameworks dominated by modernism are the:
Definition, recognition, and experience of poetry (or literariness in the broadest sense),
Ontological status of the literary imagination, including its veridicality,
Relation between poetry and other disciplines,
Typologies  of  poetic  figuration  (such  as  metaphor,  metonymy,  and  simile), and,
Status of linguistic difference as it emerges in cosmopolitan and vernacular languages.
The importance of Caucasus literary traditions
GlobalLIT 's literatures by contrast are preoccupied by these questions. Their means of engaging with them will be a central theme of the four case studies at the core of the project.
The Caucasus condenses many themes central to the study of world literature. Multilingualism features in nearly every aspect of its literary production. Translation, a topic and method central to GlobalLit, is a key dimension of Caucasus literary history, and arguably the main prism through which this history ought to be told.
The region's political history also sheds light on the type of global literary history GlobalLIT  seeks to sustain. Due to the many invasions it has endured, the Caucasus has had extensive contact with the ʿAbbasid, Mongol, Ottoman, Safavid, and Russian empires, and hence with Arabic, Turkish, Persian, and Russian literary traditions. These cultural contacts have facilitated fruitful exchanges across cultures, texts and traditions. In many cases, these have helped form the conditions for the texts central to GlobalLIT. These include the poetry and prose of Rashid al-Din Watwat, the literary histories of Abbas Quli Agha Bakikhanov and Hasan al-Alqadari, and the literary laments of King Teimuraz I.
Crossing genres, languages, styles, aesthetics, and traditions, this multilingual corpus of texts will inform GlobalLIT's inquiry into literary production of the Caucasus' global and vernacular literatures, as well the literary networks in which they participated, which extended from Lahore to Mecca to Sarajevo. Amid these genres, literary theory has enjoyed pre-eminence in the Persian, Arabic, Turkic, and Georgian literary production of the region, uniting an otherwise disparate corpus of texts, languages, and genres.
In light of its intersecting multilingual literary histories, texts from this region, specifically those from Daghestan, Azerbaijan, and Georgia, will be the key focus of GlobalLIT. Invited scholars specialising in literary traditions beyond the Caucasus, particularly South and Central Asia, which share a foundation in the Persian literary language, will help link the Caucasus' literature to broader literary flows.
The four case studies, on Arabic, Persian, Turkic, Georgian literatures, will concentrate on literary production in the Caucasus while and also engaging in extended comparison with broader Arabic, Persian, and Turkic literary flows.
Broadening the project's scope
GlobalLIT's anthology of primary sources will be even broader in scope. Without losing its ties to Caucasus literatures, its relevance reaches well beyond this geography. This is because the texts and traditions that will be included – all from the field of Islamic rhetoric – transformed nearly all Arabic-script literary cultures, and impacted all Muslim-majority societies as well as many non-Muslim ones.
The anthology will demonstrate that this relationship among the many strands of Islamic literary culture, and in particular of Arabic to other literatures in the Islamic world, is not just one of centre to periphery but also one of space and identity. Our inquiries and analysis will be informed by what we call 'concentrated multilingualism': the co-existence of multiple literary languages and traditions within single, often highly compressed, geographies. For instance, Daghestan condenses nearly a dozen Arabic-script literary languages into a geography smaller than Croatia.
Theorising literature through a conceptual model informed by this geography advances literary studies. The paradigms that emerge organically from such inquiries, as well as from the translational encounters necessary to assemble the texts together into an anthology, offers frameworks that move beyond monolingual literary trajectories and the ethno-linguistic categories of the modern nation-state.
As a region that is home to rich literary traditions as well as unparalleled ethnic and linguistic diversity, the Caucasus has attracted substantial attention from anthropologists and linguists and has influenced many different disciplinary paradigms. As a geography, a concept, and a method, it ideally suited to sustain the anthropology of literature assayed in this project. GlobalLIT will explore models of readerly reception that have been underemphasised in the contemporary study of literature.
A study of the Caucasus will provide a more culturally diverse and ethnographically attuned account of literature than that of one confined to a single national tradition or a largely monolingual geography. Literary production in the region is influenced by imperial legal structures, court patronage, and the role of education in forming readerly constituencies and training poets and critics. Hence, the region's diversity mirrors the paradigms GlobalLIT proposes to develop broadly for global literary theory.
The enduring legacy of Quranic inimitability, and the political importance ascribed to poetry within the traditions GlobalLIT is focusing on, introduces new dimensions into the contemporary study of literary form and new possibilities for literary meaning.
Alongside the capacious, if condensed, geographies of Caucasus literatures, the project's conception of the reading process breaches disciplinary divides. Reaching well beyond the traditional domains of literary inquiry, we take into account the intellectual environment within which poetry circulates and is read, notably in the domains of legal and political theory.
The four case studies will engage with the literary theories that circulated around, within, and across the Caucasus. They, and the critical anthology that will result from the project, will bring these literary-theoretical traditions into global comparison for the first time in world literary history, while also showcasing the contribution of the discipline of Islamic rhetoric to world literary theory.
New frameworks for modern literary criticism
GlobalLIT will engage with the paradigm for making sense of multilingual literary histories proposed by Sheldon Pollock for South Asia (1998, 2000, and 2006) and adapted by Ronit Ricci for Southeast Asia (2013) and Ross King for East Asia (2015). With appropriate modifications, Pollock's influential paradigm of 'vernacular' and 'cosmopolitan' literary languages illuminates our effort to map the literary histories of the Caucasus and the Islamic world globally and in their interrelations. GlobalLIT will examine how vernacular and cosmopolitan literatures of the Caucasus engaged with each other while developing according to separate, if intersecting, trajectories. This has the potential to advance the globalisation of comparative literature, and to place imperial politics and poetics in new perspectives, such as 'modernism on the periphery' (Ram 2007 and 2014).
But what of the literary histories before modernity? Comparative Literature has tended to ignore premodern Islamic literary cultures. While core texts from this canon are sometimes included in world literature anthologies, the equally rich theoretical resources that conditioned their reception remain ignored. Paradigms are required for both the writing and theorisation of Islamic literary histories from areal vantage points that are not held captive by any single geographic or national paradigm.
Benefiting from prior studies of South Asian literary history beyond nation-centric paradigms (Pollock 2001; Orsini 2005 and 2016), GlobalLIT aspires to pioneer similarly innovative methodologies for the shaping of the Caucasus' literatures, and to do so in terms relevant to the Islamic world and literary studies generally.
Beyond its areal innovations, GlobalLIT engages in extensive cross-temporal comparison. It moves beyond modernist literary theory by creating frameworks based on readerly reception, affective aesthetics, and other aspects of the reading and creative process. These will be explored in the anthology of primary sources, new critical editions of texts, peer-reviewed articles on topics, texts and traditions ranging across Islamic world literatures, and the monographs emerging from the case studies. At the same time, GlobalLIT will train emerging scholars to create new critical frameworks for the study of world literature, and strengthen collaborations between scholars based in Europe and West and Central Asia.
GlobalLIT's case studies will refine the vernacular/cosmopolitan paradigm for the literatures of the Islamic world. They will also experiment with the category of 'minor literature' as a mean of understanding literary cultures that fall outside the mainstream of world literary history (Lionnet and Shih 2005). In different but intersecting ways, each one will clarify why and how the Caucasus matters to world literary history, and will consider how research can help contemporary literary studies engage with non-modernist paradigms.
Project outputs
GlobalLIT's anthology of primary sources will provide a critical vocabulary for the project, and enable the development of a future agenda for world literary theory that is synthetic in orientation, philologically rigorous, and comparative in the strongest sense of the term.
Key figures whose writings will be included in the anthology will include:
Arabic: al-Baqillani, al-Rummani, Qudama b. Jaʿfar, Ibn al-Mu'tazz, Ibn Sina, al-Jurjani, al-Sakkaki, and al-Qazwini
Persian: ʿAwfi, Raduyani, Watwat, Shams-i Qays, al-Tusi, Jami, and Wa'iz-i Kashifi;
Turkic: Tarazi, Nawa'i, Babur, and Sururi.
The proposed outline for its structure is:
What is poetry? – will introduce early Persian and Arabic narratives concerning the birth of poetry.
The truth of fiction – will probe the ontology and veridicality of the literary imagination in Persian, Arabic, and other Arabic-script literatures.
Poetry among the disciplines – will explore the relations between poetics and other disciplines, such as law and political theory.
Figuration's modes – will focus on literary figuration's modes as these are debated and discussed the writings of Ibn al-Mu'tazz,  Raduyani,  Watwat, Shams-i Qays, al-Sakkaki, al-Qawzini, and the Turkic treatises.
Vernacularity – will reflect on the geographies our texts have traversed and ask what these trajectories tell us about literary vernacularisation and the station of linguistic difference within the Islamic world.